Carpet Cleaning
We are the carpet cleaners in Chandler AZ, and we also serve Phoenix east valley and Phoenix Cities.  In order to get the best carpet cleaning results, you have to start with the best equipment. We have the latest equipment with our truck mounted deep steam cleaning and extraction system.
With our carpet cleaning prices we always pre-treat the troubled areas.  We use our effective pre-spray solution.  And with this step most of spills, spots and heavy soil will get emulsified .  After the pre-treatment is applied, we scrub (agitate) where is needed. Finally we proceed to a hot steam extraction process. 
With our heavy duty truck mounted equipment and our thorough carpet steam cleaning technique, our valued customers always get high quality results at low and competitive cost.  We have been known as the thorough carpet cleaners in chandler AZ, and all Phoenix east valley cities. 
Please call us to learn about our carpet cleaning in Chandler AZ,  and other east valley cities.
Naims Steamers – (480) 219-9133
Best Carpet Cleaning Deal Around

 

Best Cleaning – Best Prices Guaranteed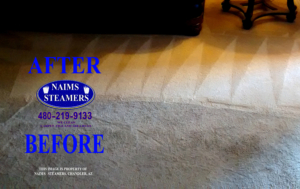 At Naims Steamers, we take our work seriously.  Your home is utterly important to us.   Your home will be treated with respect and care.  We hire only professional and ethical technicians.  As a priority to us, our carpet cleaning performance has to meet or exceed your expectations.
While we clean, our uniformed technicians are trained to care for your home.  They are careful with furniture, walls, floors and the rest of your home contents.  We never rush our carpet cleaning service, or any other services we provide.  The carpet cleaning appointments are given sufficient time to get the job properly done.  At Naims Steamers, we are definitely about a name gain not a capital gain.
Naims Steamers / Best Cleaning – Best Prices Guaranteed