AIR DUCTS CLEANING

We are based in Chandler AZ, and we do Chandler air ducts cleaning. We also serve all other Phoenix east valley cities, and Phoenix areas.

  Get clean air in your home, breathe better and get refreshed.  You might be surprised of how much soil and dust air vents can carry.  Do you know that dirty air vents can make you sick? A lot of times our customers have no clue where all the dust and allergen is coming from.  Air ducts can cause congestion and sneezing and other living discomfort Especially when they are loaded with dust and dust mites. 
With our air ducts cleaning you sure will feel, and see the difference.  We perform a thorough air vents cleaning.  Naims Steamers help you get rid of dust and debris in your air ducts.  We also use a sanitizer and special treatments to overcome dust mites and other microbes.  Cleaning your ducts' registers is also part of cleaning your air ducts.  With our Ducts Cleaning service you will enjoy fresh and clean air in your home .  As soon as you get your air ducts cleaned, you will have less dust in your home, and you will definitely breathe better.  Beside our Chandler air ducts cleaning, we also offer air ducts cleaning to all phoenix east valley cities includes Gilbert – Mesa – Tempe – Ahwatukee – Queen Creek – Maricopa AZ –  San Tan AZ.
Please call Naims Steamers to learn more about our air ducts cleaning and other services.
At Naims Steamers, quality and great customer service are top priority to us.
Naims Steamers / Best Cleaning – Best Prices Guaranteed
CHANDLER AIR DUCTS CLEANING
Naims Steamers
Best Cleaning – Best Prices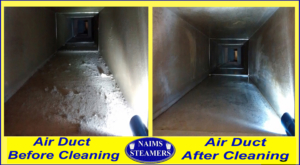 We Seriously Clean Air Vents.
Take advantage of our air ducts cleaning prices, and you will be glad you did.