We are the carpet cleaners in Chandler, AZ.  We also serve all Phoenix east valley and Phoenix cities.
Our reputation matters.
Fact:  We completely realize that it can be very difficult to find a carpet cleaning company or any other service business that will combine affordable prices with high quality performance.
Here at Naims Steamers, we have been in the cleaning business since 1992.
 Over the years, Naims Steamers have put the two main elements of a successful business together.  With this combination, we see satisfaction in the eyes of our clients.
At Naims Steamers, low prices and top quality cleaning are the base fundamental approach to a respectable cleaning business.
Being the carpet cleaners chandler AZ, we are here to keep our promise to you of affordable and professional cleaning service.
As our client, we would love for you to get an awesome cleaning experience while paying less than half of other major cleaning companies' prices.  Please keep in mind that we are still very competitive with our quality and professional performance.
We sure know that it feels great to have respectful, knowledgeable, and caring service men or women walk in your home.  Please see some of our testimonials on our web page and on yelp.

Our main goal is not being top money producer.  We are here to compete with major cleaning businesses to save all our current and prospective clients money.  We are after gaining a great nationwide reputation of goodness.
Naims Steamers, at your service with a smile.
Best Cleaning – Best Prices Guaranteed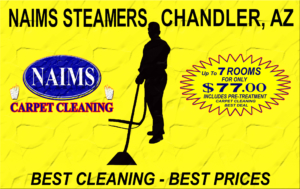 Try our professional carpet and tile cleaning to see for yourself how much pride we take in our workmanship.  We also, clean upholstery, area rugs, and air ducts.
NAIMS STEAMERS SERVES ALL CITIES IN THE PHOENIX EAST VALLEY.  WE ALSO SERVE AHWATUKEE FOOTHILLS, AND MARICOPA, AZ.